Home
Welcome to Clinical Intuition
Clinical Intuition is a diagnostic tool used for clients and physicians to receive intuitive information; a practical guide to assist you in the healing process -- be it for food, nutritional products, surgery, herbs, drugs or emotional and mental patterns -- for yourself and others.
Clinical intuition increases awareness. Patients begin to see more of themselves and others. Increased awareness allows for new choices that bring better outcomes. Clinical intuition connects the personal and higher wills so that health and lifestyle choices are made with greater consciousness.
Whether you are a physician looking to learn an alternative approach to traditional medicine or a potential client seeking ways to expedite your own healing process, clinical intuition may be a methodology that can be learned for your evolution, as well as for your patients.
Chiropractic Treatments are available at Vito's home office in Santa Fe, NM. Please call 505-982-6665 for appointments.
Professional Classes
Lectures
Chiropractic Treatments
Phone Consultations
Books / DVD
Blogposts / Newsletters
Book - Four Faces in the Mirror: Seeing All of Your Self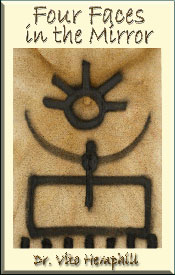 This self-help book teaches readers how to look at themselves in a new way in order to make positive changes in their lives.
"Four Faces in the Mirror: Seeing All Of Your Self" by Dr. Vito Hemphill defines the four archetypes (positive masculine, negative masculine, positive feminine, and negative feminine) and teaches you how to see yourself from this perspective.

By understanding how these archetypes affect you and your world, you can learn to take practical steps to change that archetypal balance to improve your life. This book teaches self-awareness. There are practical exercises, concepts, and worksheets taught as a three month home program.
DVD - Four Faces in the Mirror: The Practical Exercises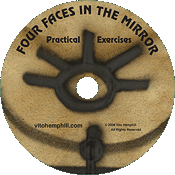 Learn practical techniques to see your self more clearly using this simple and effective method.
This audio-visual tool is a great supplement to the book which carefully explains the theory behind these practical exercises. You can use this DVD and your computer to print out the twenty worksheets used with these practical exercises.