Books
Book - Four Faces in the Mirror: Seeing All of Your Self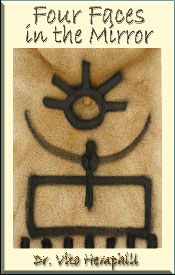 This self-help book teaches readers how to look at themselves in a new way in order to make positive changes in their lives.
"Four Faces in the Mirror: Seeing All Of Your Self" by Dr. Vito Hemphill defines the four archetypes (positive masculine, negative masculine, positive feminine, and negative feminine) and teaches you how to see yourself from this perspective.

By understanding how these archetypes affect you and your world, you can learn to take practical steps to change that archetypal balance to improve your life. This book teaches self-awareness. There are practical exercises, concepts, and worksheets taught as a three month home program.